Stakeholder engagement
As a part of our business strategy we strive to create value for our stakeholders and we make great efforts to understand their needs and expectations. We encourage open dialogue with stakeholders and strive to maintain close and trusting relationships with all of them. To ensure a bespoke and appropriate approach for each of our stakeholders we identify groups of stakeholders and determine their needs and expectations.
In our business processes we accommodate the interests and concerns of stakeholders, comply with legislation, contractual obligations, and sector regulations, and uphold and always respect human rights. We seek to fulfil our stakeholders' needs. To address all groups of stakeholders we engage various Group departments, according to their functions.
GRI 102-42
Our main stakeholders are persons or entities whose actions, interests, or safety may be affected by or have a potential impact on the Group's activities.
Cooperation with our stakeholders and creation value for them is a significant part in achieving our strategic goals. Our overall key priorities are driven by market conditions and business fundamentals. That is why we focus on several groups on stakeholders.
GRI 102-40, 102-44
Communication channels and mechanisms
During the process of elaborating communication approaches for different groups of stakeholders we try to ensure that we cover all stakeholders, initiate a two-way dialogue, and give stakeholders an opportunity to provide feedback.
We are constantly improving our channels of communication so that they are easier to use and more effective. Despite having a number of different channels, we promote the idea of having a unified information field, and strive to demonstrate our vision and values to a broad range of stakeholders.
We believe that open communication and information transparency are a fundamental aspect of having a constructive dialogue with our stakeholders, therefore, we strive to use the best and most convenient means of communication in place. For example, the Group actively participates in developing local communities and cooperates with local authorities and other industrial enterprises to improve the ecological situation in our regions of operation, through both combined and individual efforts.
In 2019, EVRAZ continued work to enhance existing communication channels, both for external and internal stakeholders. We focused on digital channels of communication and actively increased our presence in social media. Also, we worked on internal communication channels and launched the new corporate newspaper EVRAZ News – ​COAL, which is published weekly at our coal segment enterprises.
To ensure open communication for all stakeholders, EVRAZ has set up a whistleblowing hotline (8‑800‑555‑88‑88), as well as an e-mail address (vopros@EVRAZ.com), which is available on the Group's official website. Using these channels, any stakeholder can leave a message or make a call to discuss an area of concern.
GRI 102-43
Feedback collection
To continually improve our client services and boost the effectiveness of stakeholder engagement mechanisms, we collect feedback from internal and external stakeholders. Our approach to feedback collection is divided into three areas:
An annual reputational survey of external stakeholders (reputational audit)
Customer satisfaction surveys
The We are Together employee engagement survey
Reputational audit
EVRAZ is subject to an annual reputational audit, which is conducted by a third-party and collates detailed feedback on various aspects of the Group's operations from main external stakeholders, including state authorities, clients, counterparties, and industry associations. The Group conducts annual evaluations in order to understand our image and to identify areas in need of improvement.
A level of importance has been determined for each criterion.
We use the evaluation results to enhance stakeholder engagement and to fulfil the needs and expectations of our stakeholders. Events and upcoming projects are planned taking into account the evaluation results. Such plans must be approved by the vice presidentsand CEO of EVRAZ.
In 2019, our results of reputational audit were improved. Our total score reached the level of 8.5 for the first time. Clients contributed to this result the most, the score from clients (9.0) demonstrates significant growth of clients' satisfaction from cooperation with EVRAZ.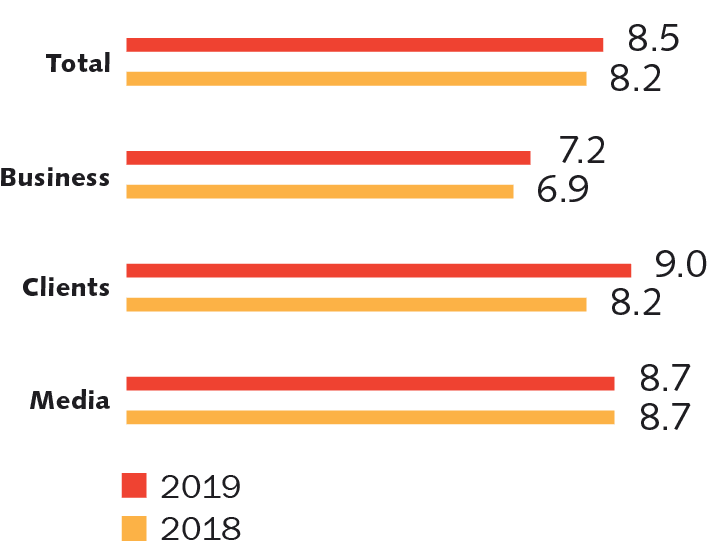 Client satisfaction survey
Each year EVRAZ conducts a client satisfaction survey in order to gauge client satisfaction levels with client services, ascertain the development dynamics of client services, and determine the key factors influencing client satisfaction levels. The survey is conducted with the aim of enhancing the quality of client services and to meet their various expectations.
The survey uses a number of research methods in order to obtain a deep understanding of various issues. During the research, experts analyse client service mechanisms and conduct qualitative and quantitative interviews with clients.
EVRAZ has recorded a high level of client satisfaction for three years, including 2019 – ​client services have received a score of 9 out of 10.
We are Together employee engagement survey
EVRAZ endeavours to provide high-quality working conditions and to create a comfortable working atmosphere. To assess employee satisfaction levels, the Group conducts the annual staff engagement survey We are Together. The survey is anonymous, so that the most objective and honest data can be obtained.
The survey helps the Group ascertain which areas are in need of development and which projects can be implemented.
In 2019, almost 53,000 employees (80% of the invited to complete the survey) participated in it. In general, the survey results indicated that the engagement level is climbing, and that the employee satisfaction level is rising
During the ongoing process of engaging with stakeholders we implement a variety of instruments aimed at meeting their expectations. We choose effective instruments in compliance with stakeholders' interests.